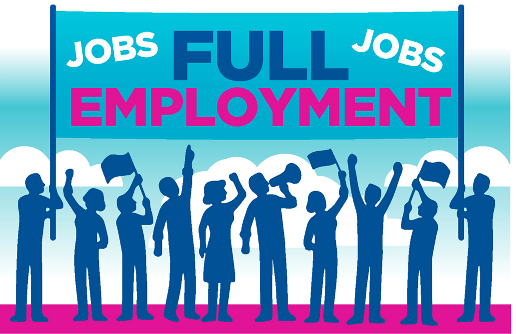 Full employment is often described as the level of employment at which virtually anyone who wants to work can find employment at the prevailing wage. Given that over the last half century, the unemployment rate in the United States has ranged from a low of nearly 2 percent to a high of nearly 11 percent, what is the specific rate at which the economy has reached the magical level? According to the Federal Reserve, full employment is subjective. It's "largely determined by nonmonetary factors that affect the structure and dynamics of the job market. These factors may change over time and may not be directly measurable." In other words, your guess is as good as anyone else's. In the Fed's March 2016 Summary of Economic Projections, the Committee estimated that the longer-run normal rate had a median value of 4.8 percent, but even if we drop to 4.8 percent when the government releases the March Employment report, that may not cut it.
The Fed also closely watches wage growth and hoping that it picks up from the paltry 2 to 2.5 percent seen during the recovery. Part of the problem is that even though job creation has been robust over the past few years, many of the new positions added have been lower paid ones, which has dragged down the average. As 538 Blog points out, this is perhaps why many American workers without college degrees are so angry. They have gone from working in factories, earning "more than $25 an hour before overtime" to the service sector, where "the typical retail worker makes less than $18 an hour…More than 80 percent of all private jobs are now in the service sector."
Still, with the pace of average monthly job gains remaining above 200,000 and the labor market tightening, analysts believe that wage growth should accelerate this year. Until it does, most consumers are happy to see low inflation, which allows them to keep more of their paychecks. Indeed, the upward revision of Q4 growth to a still-slow 1.4 percent was due almost entirely from consumers, not from businesses. Consumer spending increased at a 2.4 percent annual pace in the final three months of 2015, up from a prior 2 percent estimate.
On Monday, the government will release data on Personal Income and Spending for March, which could provide a preview of the jobs report. Although wages have been disappointing, the addition of other income, like rental income, non-farm proprietors' income and investment income, the numbers look a little better: Personal income increased 4.4 percent in 2015.
MARKETS: Stock indexes snapped a five-week winning streak and that was before the holiday release of Corporate Profits, which fell 3.2 percent last year, versus increases of 1.7, 1.9 and 9.1 percent in 2014, 2013 and 2012 respectively. It was the first negative reading since 2008, but with energy prices moderating and dollar appreciation slowing, analysts expect that profits should rise this year, which could help the labor market.
DJIA: 17,516 down 0.5% on week, up 0.5% YTD
S&P 500: 2036 down 0.7% on week, down 0.4% YTD
NASDAQ: 4773 down 0.5% on week, down 4.7% YTD
Russell 2000: 1101, down 1.3% on week, down 3% YTD
10-Year Treasury yield: 1.90% (from 1.88% a week ago)
May Crude: $39.59, down 2.4% on week
June Gold: $1,218.70, down 2.6% on week
AAA Nat'l avg. for gallon of reg. gas: $2.04 (from $1.98 wk ago, $2.42 a year ago)
THE WEEK AHEAD:
Mon 3/28:
8:30 Personal Income and Spending
10:00 Pending Home Sales
10:30 Dallas Fed Manufacturing Survey
Tues 3/29:
9:00 S&P Case Shiller Home Price Index
10:00 Consumer Confidence
Weds 3/30:
8:15 ADP Private Jobs Report
Thursday 3/31:
9:45 Chicago PMI
Friday 4/1
Motor Vehicle Sales
8:30 March Employment Report
9:45 PMI Manufacturing Index
10:00 ISM Manufacturing Index
10:00 Consumer Sentiment