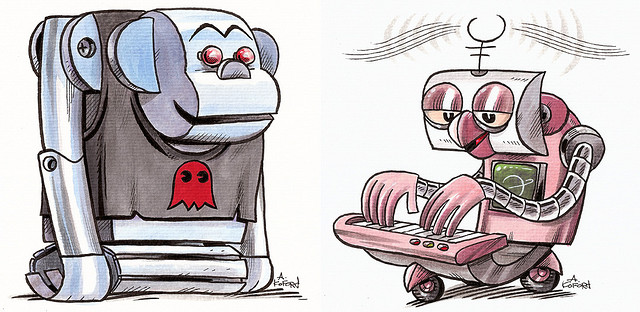 "Robo advisors are going to kill the brokerage business," carped a financial consultant from one of the big wire houses. That's an overstatement, but financial professionals and brokers who have mostly been selling investments and not providing financial advice may find that software and algorithms could eventually make them obsolete. The advent of new technology has put some of these old school pros on their heels, as investors – especially younger ones – find the process of answering risk tolerance questions on line and utilizing computer generated asset allocation plans preferable to face-to-face meetings with various salespeople, who are hocking the product du jour.
Over the past twenty years or so, traditional brokers and advisors have slowly but surely jacked up fees for smaller accounts. It's not hard to understand why they would do so. Many branch managers tell their staff something along the lines of "it takes the same amount of time and energy to work with a $200,000 client as a $1,000,000 one, so stop spinning your wheels with the small fries!"
The way that large firms stomach working with smaller clients is to either hike their fees (two percent or more for assets under $250,000) or to keep selling high cost, commission-based mutual funds or insurance products. Unfortunately, for those who were not do it yourselfers, there weren't many other alternatives, that is, until the advent of the robo advisor.
The process is easy: log on to one of the robo advisor platforms like Wealthfront or Betterment, and you will be asked to complete an online questionnaire, which takes into account some of your general financial goals and objectives and your risk tolerance. Based on your responses, the robo advisor's proprietary algorithm will slot you into the most appropriate portfolio. The firms usually use exchange-traded funds, provide rebalancing, reinvest dividends, and in some cases, can harvest tax losses.
Mutual fund and discount brokerage firms like Vanguard, Fidelity, Charles Schwab, TD Ameritrade and E*Trade have similar variations on the theme. The fees range from 0.25 to 0.75 percent of assets plus fund expenses and most services require an investment minimum.
In some cases, these firms will also provide financial advice, but a bit of caution: it is tough to create a computer model that understands who you are and can listen carefully to address your financial needs. If you have significant assets, a complicated financial life or need some extra hand holding, you may want to eschew the robo advisor route and pay up for a human being, who can provide you with customized, one-on-one advice.
As I have advocated in this space, if you do choose to work with a financial planner, please be sure that he or she is bound by the fiduciary standard. A fiduciary duty means that a financial professional must put your needs first. (CFP® professionals and Certified Public Accountant Personal Financial Specialists (PFS) are both held to the fiduciary duty.) Those who aren't fiduciaries are held to a lesser standard, called "suitability," which means that anything they sell you has to be appropriate for you, though not necessarily in your best interest. The SEC has noted, "most [investors] are unaware of the different legal standards that apply to their advice and recommendations…and expect that the recommendations they receive will be in their best interests."
Here are three resources to find fiduciary advisors:
As robo advisors mature, the choice may not be black and white. In fact, some financial planning and investment management firms are using the new technological platforms to reintroduce their services to smaller clients. This hybrid solution may provide the best of both worlds for those investors who want to keep fees down, but also need financial advice from time to time.